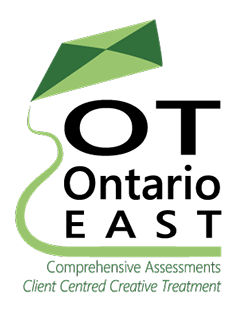 Respect, promptness, professionalism, empathy,
creativity and objectivity is what leads Our Team.

Treatment options are evidence based, client-centred, functional and collaborative with the injured person their family and service providers.
Restoring Lives, Reducing Disability
Our professional Team of Occupational Therapist additional qualifications include:
ADP Authorizer
Cogmed Provider License
PGAP Provider
Micro Point Stimulation
Brain Fx (CBA)
Mirror Therapy and Guided Motor Imagery
Brain Injury Family Intervention

When injury occurs, daily life is disrupted. A comprehensive, individualized and relevant O.T. Ontario East assessment will clearly articulate the functional consequences of the injury: necessary to fuel effective treatment and maximize recovery.
The children, adolescents and adults we serve have:
Mild traumatic brain injury
Severe traumatic brain injury
Multiple orthopaedic injury
Complex injuries
Amputations
Complex Regional Pain Syndrome
Chronic Pain / Anxiety
Depression
Severe mental Illness
Mobility Limitations
Parkinson's Disease
Concurrent diagnosis


Enabling survivors and their families
in Eastern Ontario for over 25 years.
Nancy J. McFadyen Occupational Therapy Professional Corporation
Website design Crystal Image Studio Copyright 2014